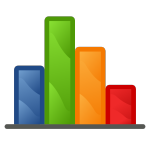 Happy New Year! I hope everyone has had a restful holiday season and is ready for a great 2014.
I wanted to start the new year off with a look back at popular blog posts of mine in 2013.  Here are the top 6 most viewed posts in 2013:
Email lessons learned from Scoutmob
Drip campaigns converting prospects to customers
Birthday emails make them fun for your phone
A "Resolve not to do" list for 2013
If you're not familiar with it, Scoutmob, located in a dozenish cities around the US of A, is a popular source for discounts to local businesses. More recently, they've gotten into the e-commerce business with Shoppe, their online marketplace for independent artists. Scoutmob and Shoppe will send a daily email with the newest special offer that's been added to their current roster of discounts. Given that this post had the highest number of entrances, I think that email marketers becoming less afraid to send too much email and may have been seeking to learn what's worked (or what didn't) from someone who's in the business of sending daily deals via email.
Beyond that, automated emails were the topics of most interest to my blog's readers. Birthday emails fall into this category as they can be set to go without any added labor once they've been loaded into an email software program. Same for drip campaigns, which are a series of emails that are sent based upon a recipient's actions on a website or with a previous email in the series.
If I were to boil it down, I'd say that folks are looking to send more, relevant email in a way that's easiest to deploy. But it's never that simple, is it? I'm looking forward to explore more of these topics, and others related to email marketing in 2014.
Any other topics you'd like to see more of in the year ahead? Thanks, as always, for being on this journey with me.