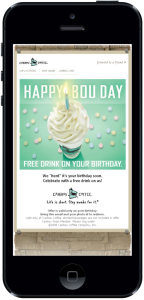 This is a mash up of two important topics in the email marketing world: event-triggered emails and the importance of mobile-friendly emails.
Event-triggered emails are also called transactional emails. What does this mean? Here's an explanation from MailChimp in laymen's terms. CAN-Spam defines these messages as any email that facilitates, completes or confirms a commercial transaction that a recipient agreed to enter into with the sender. The event that triggers the email may be a purchase or some other action taken on a business's web site. Or, it may be a life event, such as a birthday or anniversary.
Let's talk about birthday emails since February is my birthday month. I received a few messages from retailers with whom I'd shared my birthday and have some thoughts on them. Why are birthday emails so important to a company? As this study discovered, birthday emails generated over twice the revenue of bulk mailings to the same clients: $0.51 vs. $0.20 per email.
All of the offers I received were relevant, which is rule #1 for a successful email marketing program. But all of the messages were designed on a desktop for viewing on a desktop. None of the messages were mobile-friendly.
Why is it so important for your emails to be easily read and actionable on a mobile device? Here's a stat that should cause you to take notice: 41% of email is now opened on mobile devices
When you're thinking about your next email campaign, there are two terms floating around that should be in your vocabulary: Scalabale design and responsive design. Litmus explains the difference. Both are ways of a designing an email so that anyone reading your email on their phone doesn't have to squint to read the text or expand the contents to their finger doesn't hit the wrong link.
The urgency for a mobile-friendly design will vary from email program to program, but it's important to know the habits of your email list. Employ software for tracking mobile usage by your recipients and take note of which platforms (Safari, Android, etc.) are most popular.
Here's more information about implementing both of these features into your email marketing program:
Setting up a birthday email program (so good I've linked to that post once already)
The anatomy of the perfect mobile email